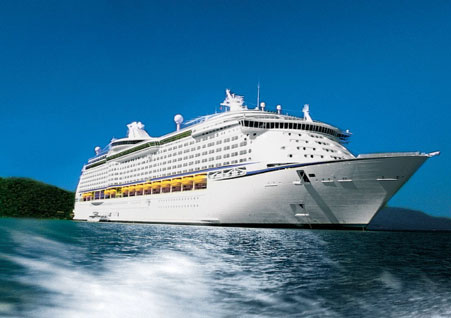 Look out for discounts off your favourite brands at the duty free shops, and check out other shopping grabs starting from as low as USD10!
Once you get onboard, you'd be forgiven for forgetting you are on a cruise. The thoroughfare in the heart of the Voyager of the Seas resembles some of the most gorgeous shopping malls you'd find on the Las Vegas Strip. That is how massive the interior is. You'll be spoiled for choice from the exclusive boutiques on board. (Shopping tip: Be sure to check out some of your favourite brands bags, shoes and watches while you're there, because some of them have been reported to have been massively discounted from mainland prices.)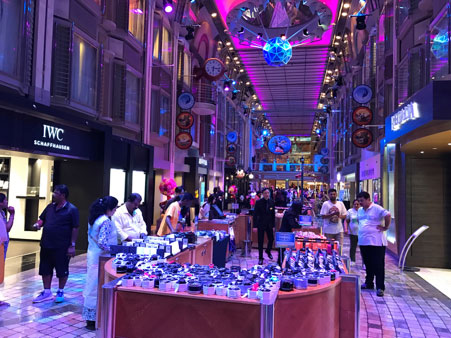 A trip for two, any two can do
Planning a trip with your BFF? You'll both be able to enjoy "surfing" at the FlowRider surf simulator, playing a round of mini golf, rock climb, and even play basketball on board. Couples on a romantic date can also watch movies under the stars at the outdoor poolside movie screen, swim and relax at the many pools and jacuzzis on the deck, learn to ice skate together, or catch a show at the theatre.
Fun for the entire family, not just the children!
Families travelling with children will be able to enjoy complete peace of mind, because it is so easy to find entertainment suitable for the children. Older and more independent children will be kept entertained at Adventure Ocean, which offers age appropriate activities for your little and not-so-little ones from 3 years old to 17 years old! Younger children love the Dreamworks parade at the Royal Promenade, the exhilarating ice skating show, and the many meet and greet sessions with the Dreamworks Characters on board.
Enjoy complimentary meals at the buffet style Windjammer Café, fine dining service at Sapphire Dining Room, and 24 hours café snacks at Café promenade
Then there is the absolute best part of the cruise: the food. Round-the-clock meals have never been quite so exciting. The Windjammer Café provides international buffet fare at a casual dining setting, which rivals some of the best hotel buffets you will find in Singapore. Imagine getting the best of your favourite international cuisines in one place. Now imagine getting it three times a day everyday. Yes! It's a dream come true!
The Sapphire Dining Room provides a sit-down dining experience with the most immaculate service. Parents will love the extensive children's menu that can satiate the most picky of eaters, and everyone else will enjoy their own comprehensive meal options, from poultry to fresh seafood, accompanied by your very own choice of dessert.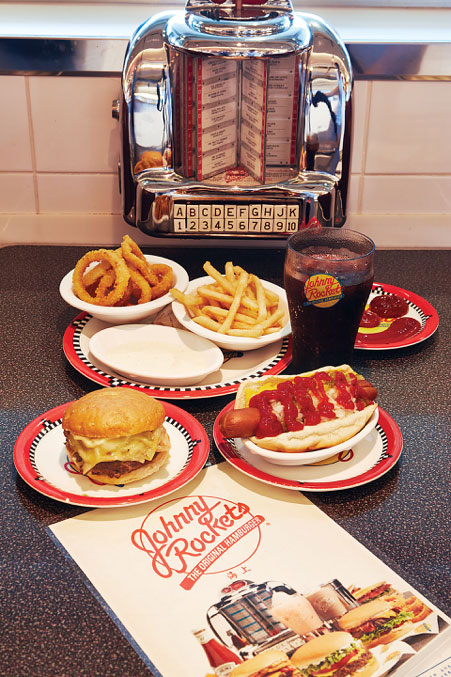 If you're looking for something different, you can check out the signature steakhouse Chops Grille, Italian restaurant Giovanni's Table, or enjoy a 50s dining experience at Johnny Rockets. At other times of the day, you'll find your favourite coffee and tea casual teatime treats (absolutely free!) at the Café Promenade, and the children will love the free flow of hotdogs and ice cream at the poolside. Couples can even grab a drink together at Schooners Bar or the English Pub, or get a quiet cuppa at Café Latte-tudes.
Spend 8 hours in Georgetown, Penang – A hipsters' haven!
A distinguishing factor of the Royal Caribbean cruise experience, is its destination stopovers. These stopovers allow holiday goers the opportunity to visit different cities in between their cruise holiday. Some people consider it a chance to get back on land for a breather, for others, it's just another luxurious way to travel.
For instance, the stopover at Penang puts you right in the heart of its heritage city, Georgetown. A short walk from the ferry terminal and you'll find yourself at the iconic street art, painted by Lithuanian painter Ernest Zacharevic. While you're there, you can try out the famous Penang char kuey teow, Penang laksa, and other local delights like Gula Melaka Soyabean drink from the quaint coffee shops and streetside stalls peppered throughout Georgetown. Prefer a hipster café or two? You'll find plenty at Georgetown. If you're lucky, you can even catch the night market at Armenian Street on Saturdays, and buy yourself a beautiful handmade trinket or two.
Other destinations include popular travel destinations Phuket, Port Klang, and Langkawi. The longest cruise itinerary lasting 9 nights brings you from Singapore to Hong Kong, via Bangkok and Vietnam.
So what about those amazing deals we mentioned earlier? Read on for all the details!